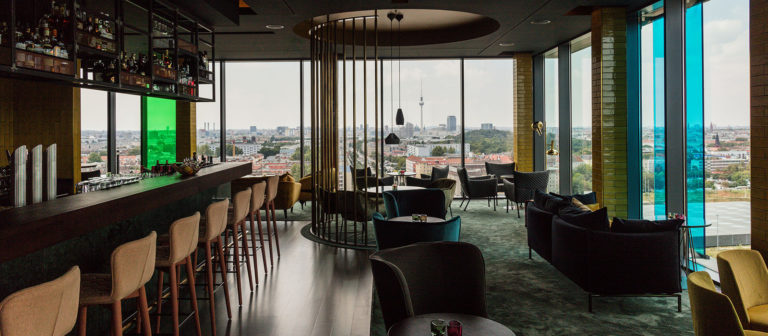 Culinary time-outs with a view looking out over the capital city, a sophisticated after-work drink, relaxation in the spa, and pleasant accommodation for guests: the design hotel Vienna House Andel's Berlin offers all this and is only a few minutes' walk from DSTRCT. With 557 rooms, 4,400 square meters of event space, a number of conference facilities, free high-speed WLAN, and a mobile concierge, the four-star superior hotel is one of Berlin's most versatile conference and event hotels. But it is above all its offerings in gastronomy that attract visitors from the neighborhood.
Star Cuisine in Skykitchen and Sixties' Charm in Loft14
The Skykitchen restaurant and Loft14 bar located above it are the undisputed stars of the house. Both special and down to earth, the star restaurant Skykitchen is located on the hotel's twelfth floor. The restaurant and bar were designed by the architects Dreimeta – unpretentious, harmonious, and furnished with original drafts from the architects, as well as unique antiques. In short: a true original on two floors with a panoramic view of Berlin.
The heart of the Skykitchen is the glass kitchen cube, which gives a glimpse into the arts of star chef Alexander Koppe and his team. The exterior wall of the cube was designed by the Viennese artist Gregor Eldarb. Interlocking geometric surfaces reflect Berlin's architecture and geometry.
Its visual counterpart: Loft14, 64 meters up in the air, with a 14-meter-long counter of dark oak and marble and bar stools in flamingo pink. Soft, generous armchairs and sofas made of velvet, earthy colors in the parquet floor and on the walls, and fabric wallpapers round off the sixties' design.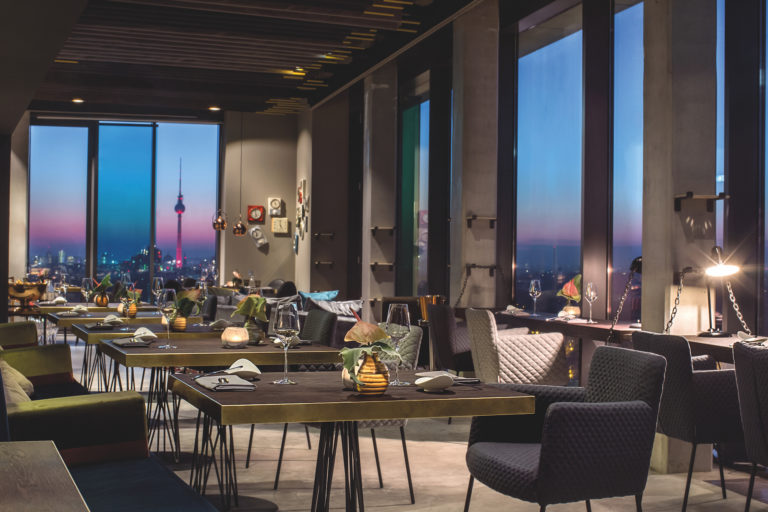 Surfer Spirit at Mavericks
A highlight in the hotel's generous restaurant and architectural offering is Berlin's only California kitchen – Mavericks. It's a refreshing splash of color – cool, casual, and full of California lifestyle. Eighty-four seats, including casual bar stools, velvet ottomans, and ocher-colored leather benches offer space on three levels for a food bar with sandwiches, burgers, and pizzas as well as a menu for an extended light lunch. It's eating in the style of the California coast.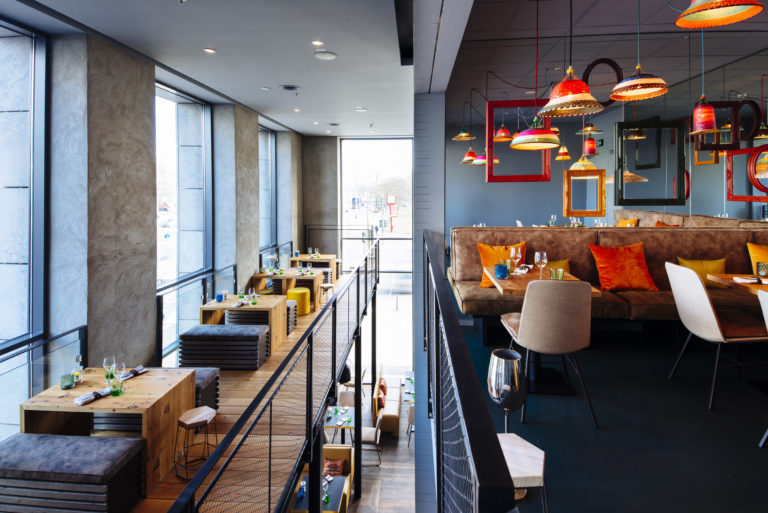 SpaSphere as a Haven of Calm
Make it easy to recharge your batteries: hop in the large Jacuzzi, sweat it out in the Finnish sauna overlooking Berlin, breathe in the fresh air on the rooftop terrace. Or go for a steam bath and a beauty treatment in one of the five cabins. In the 550-square-meter SpaSphere, hotel and day spa guests relax far away from traffic, noise, and stress.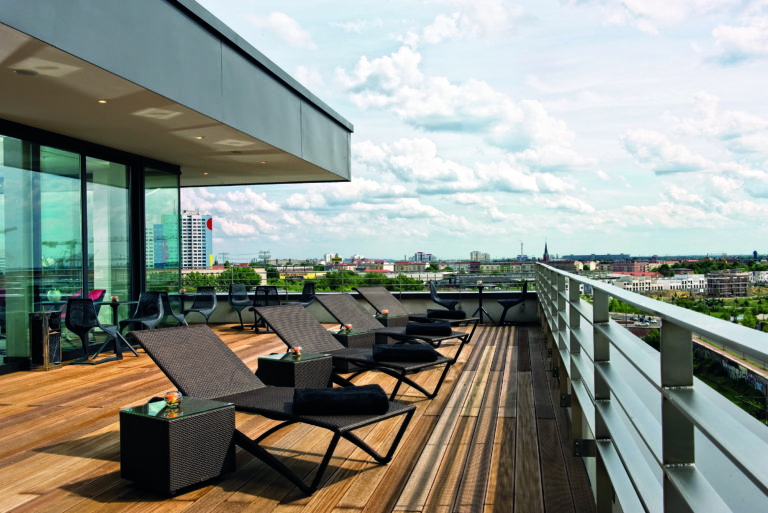 Skykitchen and Loft14
Landsberger Allee 106, 10369 Berlin
www.viennahouse.com