We are pleased to announce that we have been able to start a collaboration with Berlin artist Christian Awe as part of the DSTRCT project. Christian Awe will create several works exclusively for DSTRCT Berlin. They will find their place in two lobbies of the new building. Awe's expressive works will harmoniously complement the building's open and clear architecture and lend the area an individually specific DNA. With their dynamics, energy and expression, they not only fit in with DSTRCT's urban self-image, but also encourage dialogue.
Art does not only belong in exhibitions and museums, art is also indispensable in the workplace, because it creates identity and promotes the creativity of employees. We realise buildings that meet the high criteria of the WELL Building Standard: In our understanding, the well-being of employees is of decisive importance. Art and design are of great importance here.
At the end of last year, we agreed to cooperate with Christian Awe. At a first joint on-site appointment in mid-January, the aim was to sound out the right proportions as well as the spatial and colour effects on site. The installation of the works painted especially for DSTRCT.Berlin in the future lobbies will thus create an exciting combination of painting and architecture.
As project developers, we pay special attention to the integration of artistic contributions in all projects. In cooperation with the Berlin Office for the Protection of Historical Monuments, we were thus able to restore some of the graffiti in the former slaughterhouse halls of DSTRCT that had been created during the period of vacancy. After their transformation, they will bring a piece of urban life to the office environment.
About Christian Awe
Christian Awe (*1978) lives and works in Berlin. He studied at the Berlin University of the Arts. In his works he processes urban influences as well as associations that take up elements of nature. Many of his paintings have always been influenced by the interaction of people, the pulsating life and creative hub in metropolises such as Berlin, Tokyo or Ouagadougou.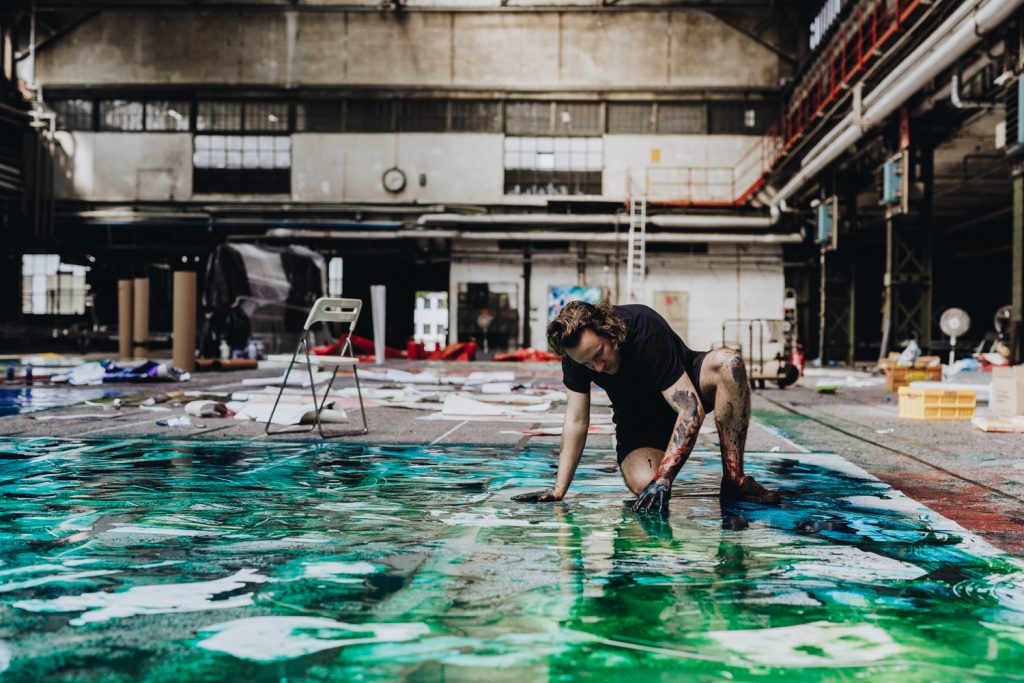 With his abstract-expressive painting and the resulting dynamics of powerful colours and forms paired with airy gestures, the artist appeals to sensual perception. For him, colour is life energy. It embodies freedom, power and love, can trigger feelings and emotions and thus become a place of longing. Christian Awe's colour landscapes full of depth and drama touch the senses and go hand in hand with the individuality of the places for which they were created.
Whether in museums or galleries, whether on canvas, paper or large-scale house walls of 500 m² and more – Christian Awe's painting invites you on an inspiring journey that always allows you to see and feel something new.
As an internationally successful artist with exhibitions and cultural projects in Japan, Russia, the USA and Dubai, among other places, Christian Awe is committed to social issues. His focus is on education, integration and health.
With his works in public space, he wants to take away the elitism of art. Awe is concerned with togetherness and the democratisation of art; making art a part of everyday life for everyone to experience.
Two of his murals can also be seen in Berlin: in 2012, Christian Awe won a Europe-wide competition organised by the housing association Howoge to artistically design a 500 m² gable wall of the Frankfurter Allee 192 prefab building, directly opposite the former Stasi headquarters in Lichtenberg. In 2015, he created his tennis court-sized work "Adanzé" for the building at Hauptstraße 117 in Berlin-Schöneberg. "Adanzé" means "a warm welcome" in various West African dialects – a greeting from Berlin to people all over the world. With proceeds from the sale of special editions of details from this mural, the artist was able to realise the construction of a school for 300 children in Burkina Faso (West Africa).