When we announced in May 2021 that home24 SE would become a new tenant at DSTRCT.Berlin with approx. 13,000 square metres, this had already been fabulous news. In the meantime, we had the opportunity to talk to Dr. André Schneider, CPO (Chief People Officer) and General Counsel of home24. We talked about what is relevant when looking for new office spaces, why home24 chose a project from HB Reavis and why DSTRCT.Berlin is impresses.
Which factor was more important to you when looking for a new office location: architecture or location?
Dr. André Schneider: Both features are not to be missed. The location at the Velodrom as well as the connection to public transport, especially the Ringbahn, are excellent. In addition, we liked to stay close to our current office – our new office at DSTRCT.Berlin is only a 15-minute walk from our former location. And of course, the DSTRCT.Berlin scores with its extraordinary architecture. The interplay of historic halls with an elegant look and clever design has a special charm.
So I would say: both are important, but the representative architecture in combination with the innovative features, which above all reflect home24 as a young, dynamic company, are certainly a great reflection of our values. For example, we are particularly looking forward to the fact that we will have a bicycle garage in the new office with attached changing rooms and showers, so that our colleagues can come to work by bike in a climate-neutral way.
What is concretely important to you about architecture?
Dr. André Schneider: We have outgrown our infancy and are no longer a start-up – the home24 family comprises almost 500 employees at our Berlin location alone. Of course, this also brings challenges: retreat options, collaboration areas and quiet zones were no longer sufficient at the old location.
In addition, the future of office work is hybrid, as the last year has clearly shown us. Very few colleagues want to return 100%. Many would like to go back to the office, but to exchange ideas with colleagues – without losing the freedom to work from home or another location. With the move, we also want to meet these new needs. In doing so, we can expand in space and at the same time completely reorganise ourselves: with more efficient room structures, quiet zones, but also interactive meeting areas that ensure the best possible communication between the teams.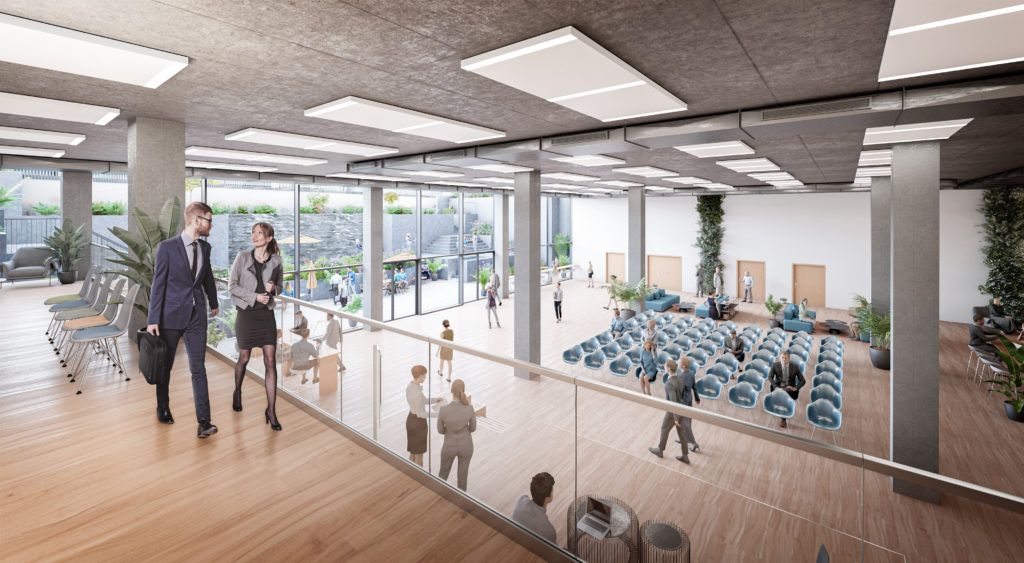 Your conclusion?
Dr. André Schneider: Many of us have the feeling of moving out of a children's room. The rooms were good for the start-up phase and our growth. In the meantime, however, we are an established company that wants to expand even further in the coming years. We have high goals and great visions for the next few years. That's why we need a new "home" for our homies which reflects our corporate values and culture in the best possible way and in which every single employee feels comfortable.
Thank you very much for the interview, Dr André Schneider.
Are you also interested? Feel free to cget in touch with us.