Delicate guitar sounds and two-part singing* recently filled the DSTRCT area on Landsberger Allee – and lured the resident tenants out of their offices for an extended lunch and afternoon break. Besides the setlist, which included songs from Amy Winehouse to Dolly Parton, the food trucks were also corresponding magnets: They offered Mexican specialties, burgers and bowls, which were consumed around 1,000 times, as well as refreshing frozen yoghurt for dessert. The coffee, which was served between the historic brick walls in the area, was also more than praised.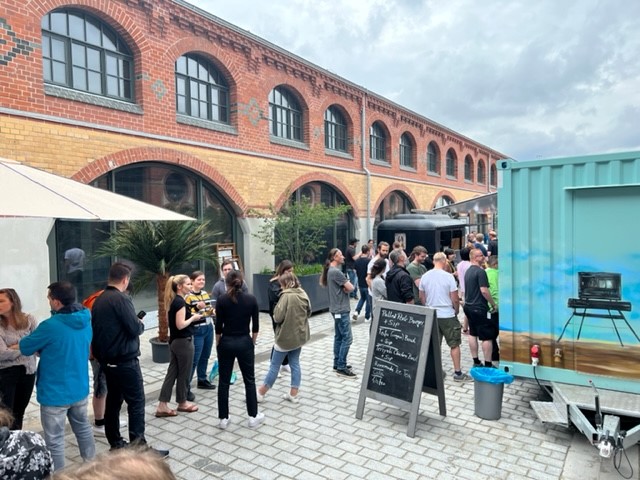 Keyword brick walls: These are currently being renovated and, in agreement with the monument conservation authorities, are allowed to continue to bear some graffiti that became part of the walls over the long years of vacancy. This was taken up in a playful way during the tenants' festival: Canvases and spray cans were available so that people could try out their own graffiti skills under expert guidance of Christian Hermann. The result were eleven large-format pictures, to each of which many people from different companies contributed a corner or two (or a centre).
And the multitude of cooks did not spoil the broth at all: The canvases are amazingly coherent in themselves. They are now going on touring exhibition tthrough the offices at DSTRCT.Berlin and stand as examples of a successful neighbourhood.
Watch a short video from the event here: https://www.youtube.com/shorts/RKsc8zNZssg
*those who liked the music as much as we did, stay tuned here for the two acts: SISSOS and Scott & Lila.