Fitness provider FitX has changed the location of its office in Berlin and is now based at DSTRCT.Berlin. Stephan Marx (FitX CIO) and Josephin Hochstrasser (Team & Headquarter Assistant at FitX) talk in an interview about the move and what the new office is all about.
You have changed the location – how did this come about and what convinced you?
We were the only tenants left in our old office building at Alexanderplatz, which had been under construction for a long time. Since the construction work took longer than planned, we looked for alternatives and visited three spaces in a similar price range. However, the central location and potential of the DSTRCT.Berlin area convinced us. In addition, we were looking not only for a modern office space, but also for an environment that would encourage work and the sense of community.
How did you implement interior concepts that promote communication?
We planned the interior together with the architects and planners of the building. However, we did the design and layout of the rooms ourselves. In the process, we were able to use a lot of the existing furniture, which was seamlessly integrated into the new office space.
We have upgraded our meeting rooms with the latest technology to minimize travel activities. In addition, we devoted a large part of the space on breaks and leisure related topics. The central kitchen is a great place for interaction. A good mix of meeting rooms, open spaces, quiet rooms and relaxation areas has been achieved.
Especially your terrace is a real eye-catcher!
Definitely! The new office on the top floor covers 650 square meters of office space and a 235-square-meter terrace – a great balance between indoor and outdoor space. The terrace offers employees an additional place to work or relax and will certainly be a popular place to meet in the summer.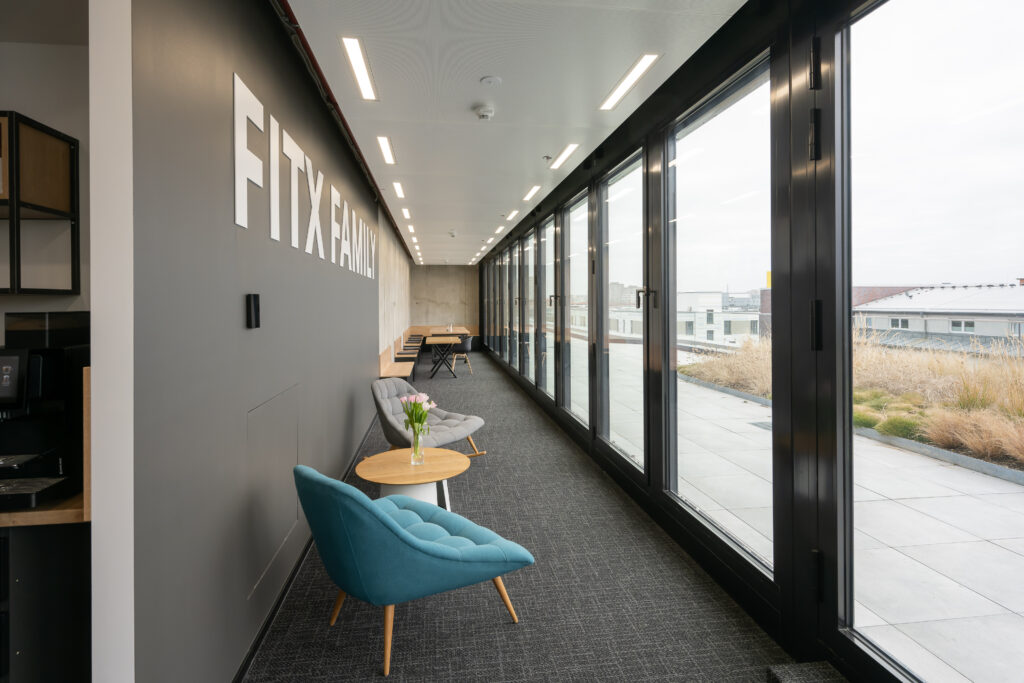 How satisfied are the employees with the new space?
The employees all enjoy coming to the office and are happy to be back in a pleasant working environment. There are days when the office is very busy. We have a hybrid work model that allows our colleagues to work from home as well. The fact that they come to the office both frequently and with great enthusiasm is a good sign. The architecture also provides the right environment: it is quiet, clean and stress-free.
One employee said, "WOW – it's beautiful here!" Another colleague was thrilled by the terrace and said, "When they see the terrace, they're all blown away." Our colleagues from Essen are also looking forward to visiting the Berlin office in the summer.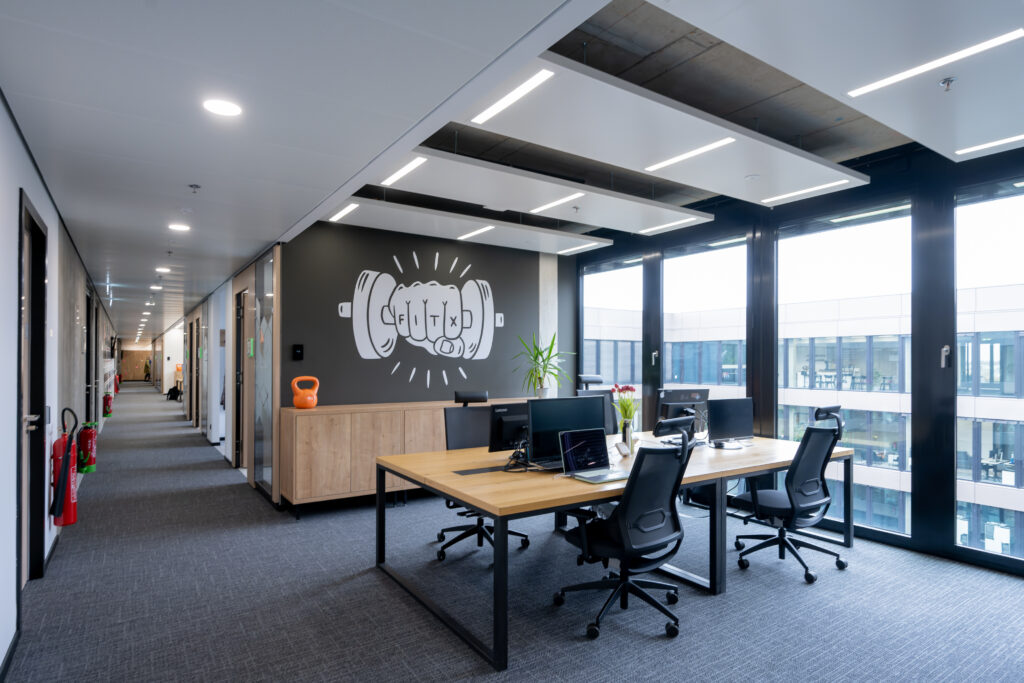 What is your conclusion?
Centrally located and easily accessible, DSTRCT.Berlin is a great location. Especially the underground bike garage is a highlight that fits our fitness concept. As soon as the temperatures start to rise, we will finally be able to inaugurate our terrace. I think that is what our colleagues are looking forward to the most.
About FitX:
Founded in 2009, FitX is now the second-largest fitness operator in Germany with over 100 studios. The Essen-based company has a clear vision: FOR ALL OF US. FitX wants to make fitness accessible to everyone. As a company, FitX believes in the transformative power of fitness, because fitness transcends language barriers and appearances. At FitX, everyone is welcome, regardless of age, workout level or background. At the same time, FitX stands for a simple and transparent fitness offer: 24 euros per month for 24-hour opening hours, individual training support, a large selection of courses and seven training areas on at least 1,800 square meters. Drinks, showers and parking are included, and with the membership card every member can train anywhere in Germany.