The fire protection company hhpberlin is coming to DSTRCT.Berlin: We spoke to its managing partner Stefan Truthän about the new hhp headquarters in Berlin.
Mr. Truthän, what was your most important premise when looking for an office?
One premise in the search for our new headquarters was not only to look at the economic aspects, but also to focus on points such as accessibility. The way to work should be as short as possible for all colleagues; no one likes to spend one or two hours a day travelling to the office. So with our broker JLL, we looked at where our employees live. The DSTRCT not only meets our superficial needs, but brings what it takes to be a home base for the entire team. We looked at other options, but they just didn't fit our mindset. Another important premise was that a space could reflect our mindset.
What is your mindset?
Moving means packing everything and then unpacking it again. But we ourselves want to literally emigrate from our office. To free ourselves from ballast in order to remain mobile, to maintain the necessary openness and flexibility in our minds. By moving to the DSTRCT area, we are taking the opportunity to purify ourselves, to clean up, in short – to develop ourselves anew. Incidentally, we have also freed ourselves from a lot of ballast in terms of space. We have come from 2,000 square metres, of which 700 square metres are useless corridor. In the DSTRCT we will have 1,400 square metres. In addition, it is also important to us that the offer on and around the space is as appealing and inspiring as the space itself.
What does the ideal distribution of space look like for hhp?
We have long felt in our old space that 25 per cent of the office should actually be flexible cafeteria space. Now we will even have a third of such space. But both the landlord and the space have to be able to go along with it. Go along with the mindset. The DSTRCT offers the ideal opportunity to bring our experience in this area to the space.
What else is it about, apart from less ballast?
People don't just come to the office to work, they consciously seek exchange. The course must be set for this. And how? It is an urban legend that the meeting room must be the centre of exchange. What we need instead is a kitchen atmosphere that encourages people to talk. Just make your kitchen flexible enough to double as a meeting room. That it's just as suitable for a hackathon as it is for a town hall meeting, an academy training session or a meeting with stakeholders. All in all, we want an office space without doors that is nevertheless not a classic open-plan space.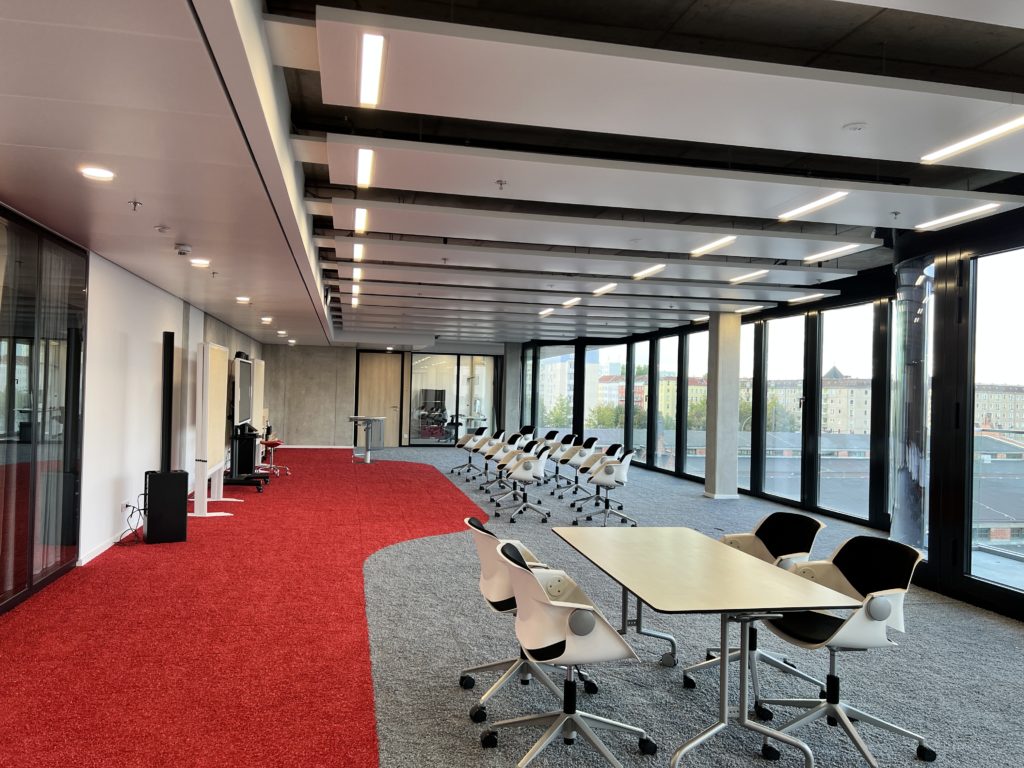 What do the other two thirds look like?
A third will be retreats where you can isolate yourself alone or with two or three colleagues. To relax, to think, for a video conference and so on. And another third is earmarked for the workplaces. Up to 150 employees can work together there. Multifunctional furniture such as height-adjustable desks allow everyone to work exactly as he or she wants. We don't want furniture that tells employees whether they should sit or stand, but rather furniture that supports them in their work. Digitalisation and sophisticated IT also offer flexibility. No one is stuck in their place for eight hours any more, but can also go wandering around within the office – to wherever they feel comfortable at the moment and feel best supported in their work.
Your conclusion?
There are two basic economic principles, the minimum and the maximum principle. The minimum principle says to achieve a given goal with minimal means. Translated to an office, this means I do a laying hen principle. Minimal space for everyone. Nobody is happy, but the goals are achieved somehow. The maximum principle says to strive for maximum success with given means. Our office space must be designed in accordance with the maximum principle. Emigration is an impulse here. And the qualities of space that inspire. So that all of us in the company become even better.