At DSTRCT.Berlin, we continue to work busily towards completion: the futuristic new building is already visible from afar and the first tenant STRATO, a well-known Berlin IT company, will be moving in within a few days. The DSTRCT.market in the heritage-protected, historic hall is also becoming more and more noticeable: there, new places are being created for the employees of DSTRCT.Berlin as well as for the neighbourhood and all residents in the area to drink coffee together or enjoy a tasty, healthy lunch as well as to be able to shop sustainable products. These aspects – IT companies, sustainable and healthy gastronomy as well as product offers – currently seem to experience an additional boost in Prenzlauer Berg and especially in the surroundings of DSTRCT.Berlin.
Focus on IT and technology
According to a report in the Berliner Morgenpost up to 3,000 new office jobs are being created in the new "Spark" and "Scale" projects, which are also located close to the S-Bahn. Companies from the tech industry in particular are interested, the article says. This is also the case with DSTRCT.Berlin: the earlier-mentioned IT service provider STRATO and the e-commerce giant home24 were already confirmed early on. Recently, the WOW Tech Group, which is considered a technological pioneer in the sexual wellness industry, joined as well.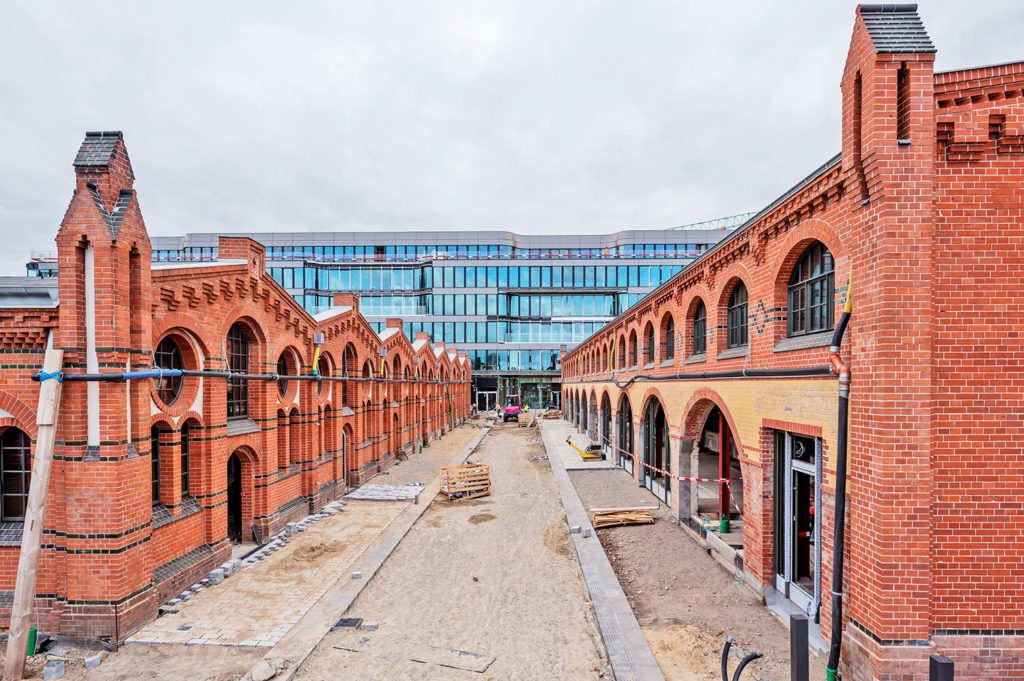 Additional focus from creative and media companies
But the Prenzlauer Berg location also seems attractive for media and creative companies. We have signed another lease with AWIN for DSTRCT.Berlin. This company is a subsidiary of the Axel Springer Group. The global affiliate marketing network AWIN offers an international community, innovative technologies and valuable data insights. AWIN will move into a historic hall and then enjoy a very remarkable office atmosphere with ceilings up to nine metres high, graffiti art and galleries in the midst of important Berlin history.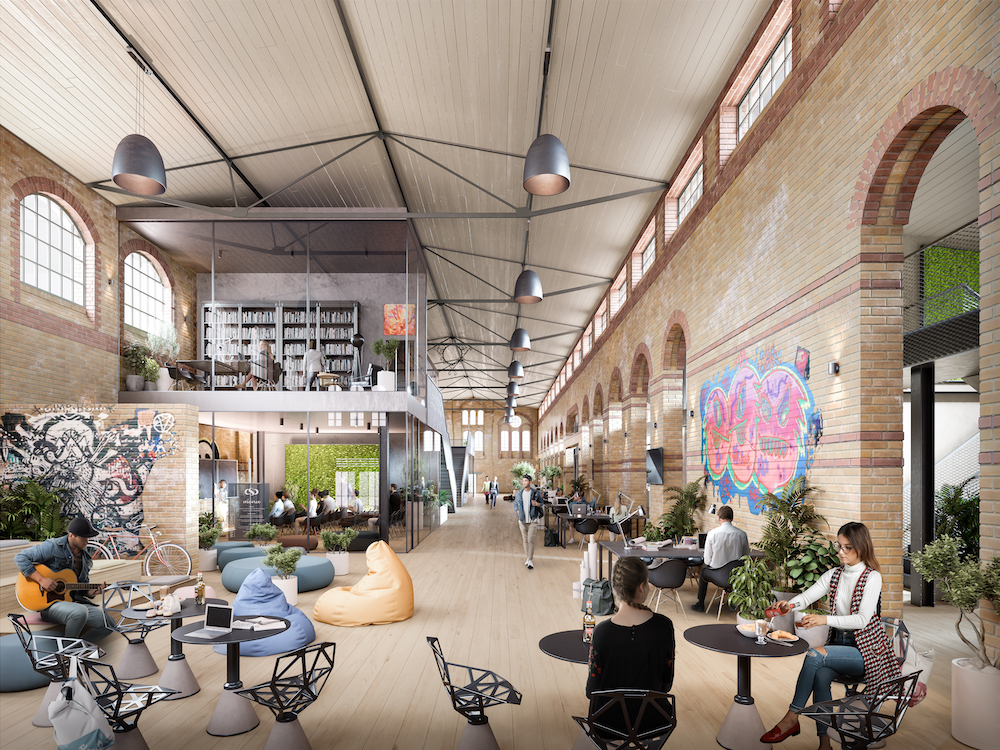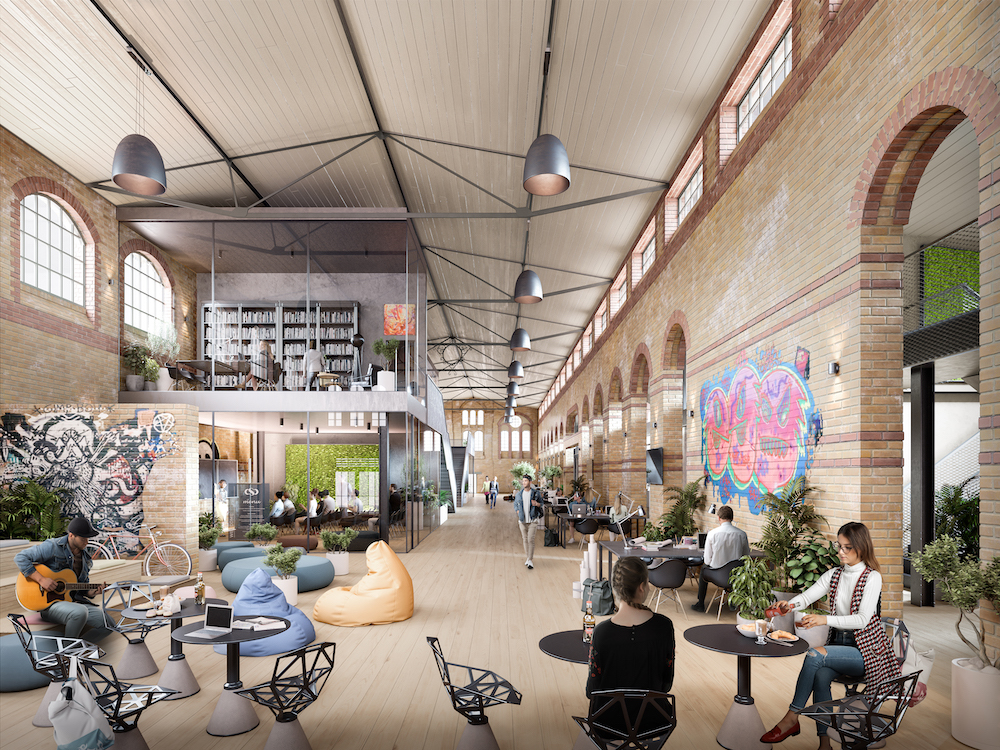 We expect to create a total of at least 2,000 office workplaces in close cooperation with our tenants. Together with the "Spark" and "Scale" projects, this would mean around 5,000 new jobs with a focus on IT and creativity.
Shaping the neighbourhood even more clearly
So is Prenzlauer Berg becoming a new hotbed for IT and creative companies? The development is not entirely new. The district has long been shaped by internet and mail-order businesses, the information and communications industry and the creative industries. However, this development is becoming even clearer with the new office locations, especially due to the local concentration.
New offers for the neighbourhood
And as indicated above: In all three of the above-mentioned projects, gastronomy space will be created in addition to office space. Our light-flooded DSTRCT.market will offer a very outstanding ambience on around 2,700 square metres and ceilings up to nine metres high. We are very excited to realise new options for the neighbourhood here and to create added value for the people who live here. We want to be part of the neighbourhood and offer high-quality feel-good-places of wellbeing for people to meet – always with a focus on health as well.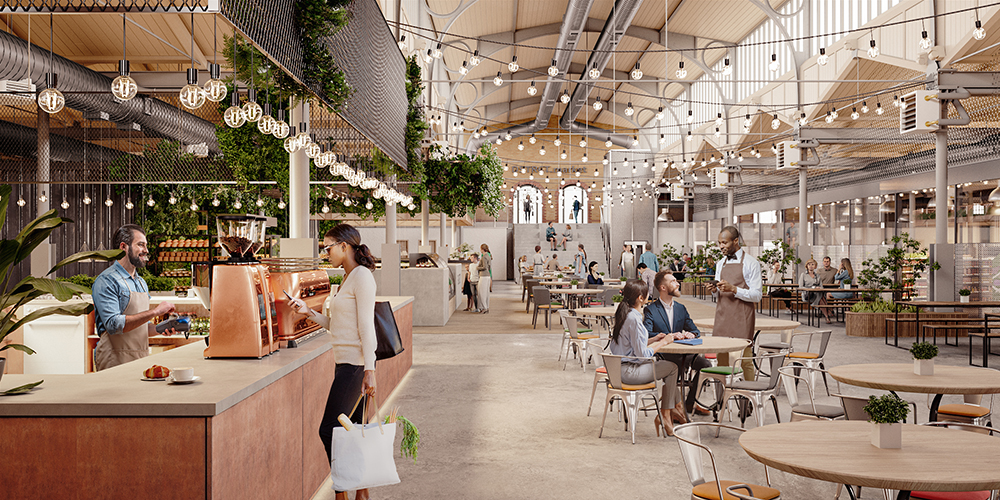 So if you are interested in office or gastronomy space, please feel free to contact us: https://dstrctberlin.com/contact/