A quick phone call, creative individual work, joint search for solutions with colleagues or further training with a frontal lecture – office work is diverse and requires correspondingly diverse office landscapes. This is reflected in the floor plan by means of very different room types, from shared desks to meeting rooms. In addition to the rooms themselves, the room technology, including sensors, can also contribute to supporting colleagues individually in their various tasks. Let's stay with the example of the meeting room.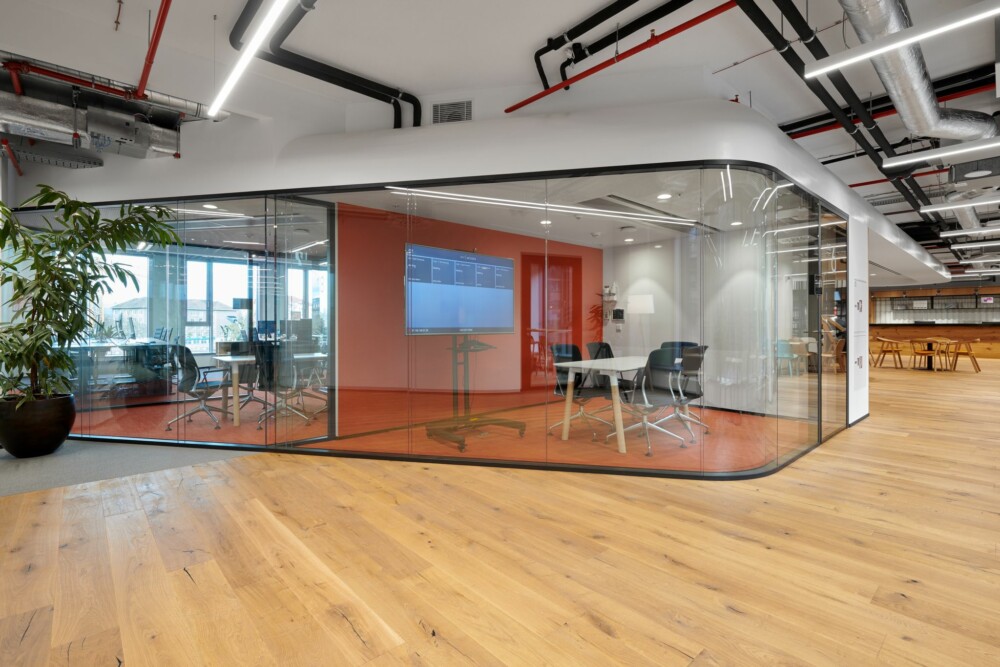 Scenarios for different situations
Our colleagues from Symbiosy rely on scenarios here: A darkened environment for presentations with lowered blinds or a pleasant, comfortable light for a team meeting can be created at any time with a touch on the tablet. Preset scenarios like these can also be changed according to individual preferences or even individually programmed – right up to the time-controlled opening of the windows shortly before a meeting so that the supply of fresh air is optimal. Of course, this is automatically adjusted to the preferred room temperature. Sounds a bit like Smart Home? Let's call it Smart Office. Whereby the support of individual activity through scenario selection is only one aspect that is embedded in a larger context with Symbiosy – similar to other third-party solutions.
Flat white at the touch of a button
At Symbiosy, this context includes, among other things, physical well-being: a catering menu offers buttons for drinks, which are then brought into the room in the digitally transmitted number. Ristretto? Flat White? Water? Juice? Everything is selectable. Later the coffee cup tips over? A cleaning button sends a request for assistance to the relevant colleagues. Similarly, if the beamer fails or the video conference does not start: The service colleague does not have to be searched for a few rooms away, he or she receives a corresponding message. Upstream of all this is a digital room booking system. All solutions are operated from one device – the aforementioned tablet.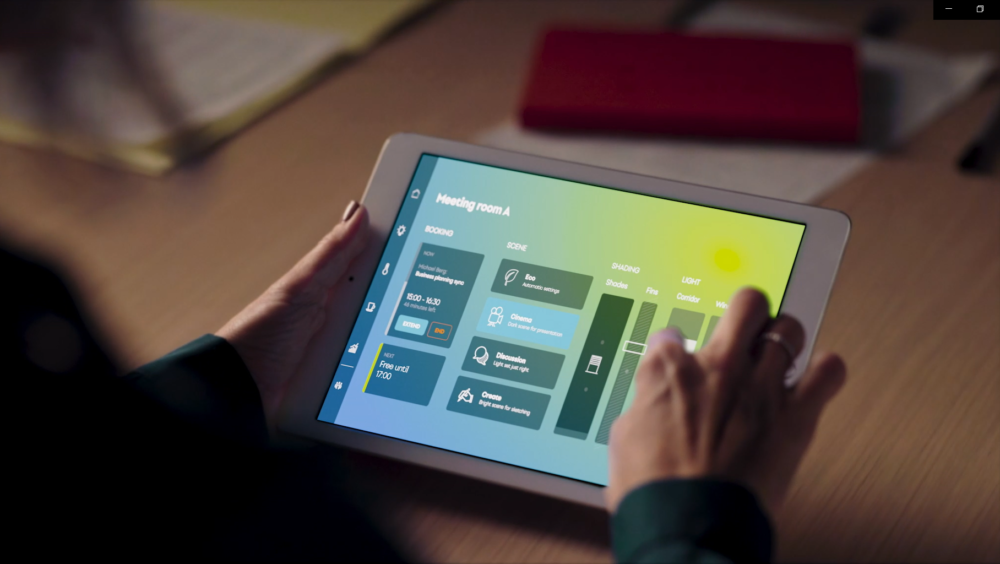 Air particles and air quality
Nowadays it is particularly important to pay attention to health, even in the office. With Symbiosy, an Air Quality Index is therefore displayed on the tablet – among other things, the CO2 content is measured. Humidity is also recorded. Overall, not only the air quality inside, but also in front of the office building is taken into account. Sulphur dioxide? Nitrogen dioxide? If the air outside should just be permeated with harmful particles, the corresponding recommendation for action appears: "Please do not open windows". Many of the features presented here do not refer exclusively to meeting rooms. Symbiosy also offers the air quality control and individually optimised room temperature shown for the "normal workroom". Did you know that a poor room temperature is the third biggest source of stress in the workplace? This is the result of a study by the Techniker Krankenkasse.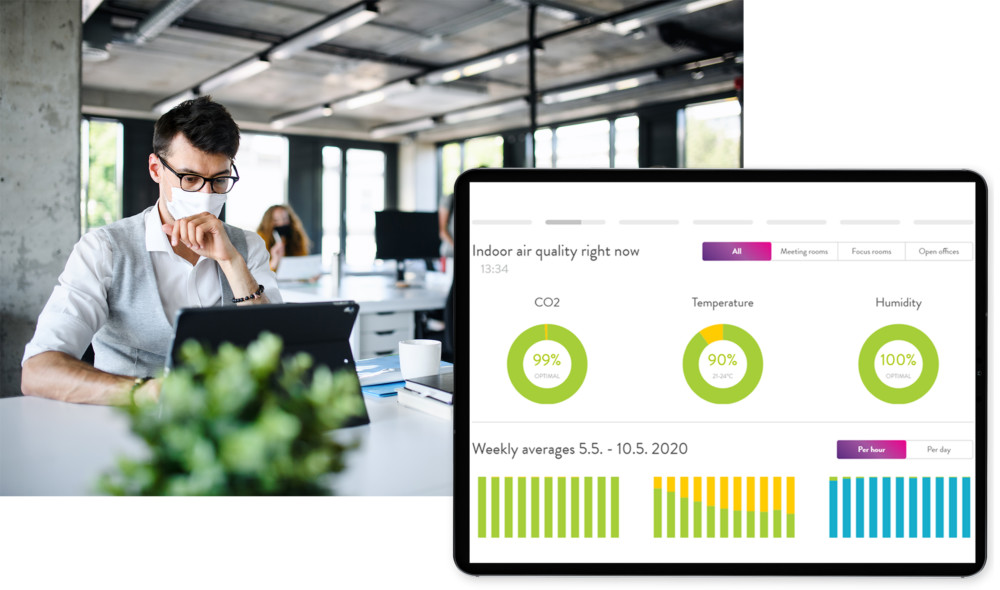 Working conditions and the war for talent
By the way: Our first two major tenants in DSTRCT.Berlin have booked many of the aforementioned features as well. And our tenants seem to be on trend: According to IDG Research, 8 out of 10 companies say they are above average in terms of jobs for the future. Around 600 companies provided information here. One possible reason for the result: only with a modern workplace and attractive working conditions do companies stand a chance in the 'war for talents'. Around 300 of the 600 companies surveyed commented accordingly.