Modern and efficient. The city within the city.
Shared Working Spaces already existed back then – also at the Central Livestock and Slaughterhouse: From the beginning, the slaughterhouses have been divided into chambers that can be rented by private butchers. Each chamber has a water connection and access to the meat cellar. A separate slaughterhouse is available for each type of animal.
However, the butchers working here are not employees, but continue to be free entrepreneurs. The rent for the premises is moderate: 1 Mark per pig, 1.50 Mark per cow.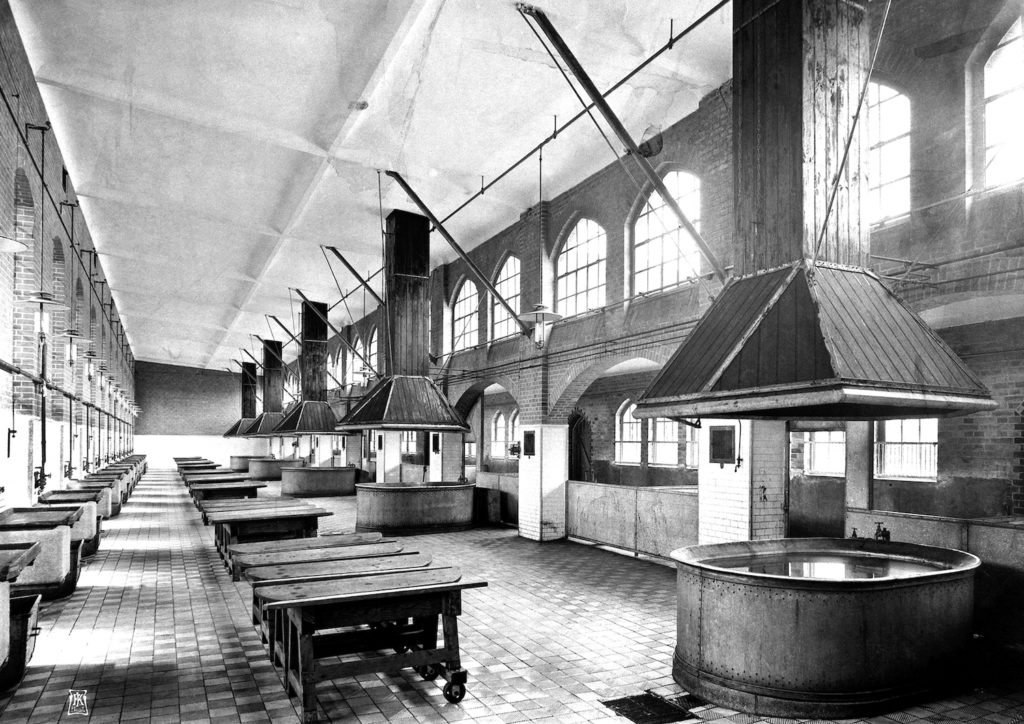 Today's DSTRCT.Berlin consists of 4 historic halls. The largest hall, which is next to the Ringbahn, was the sales hall for foreign pigs at that time. The historic hall next to it was the pig slaughterhouse for large farms. The historic hall next to it was again the pig slaughterhouse for small farms. And finally, the smallest historic hall of the DSTRCT.Berlin next to the town square held pigsties at that time.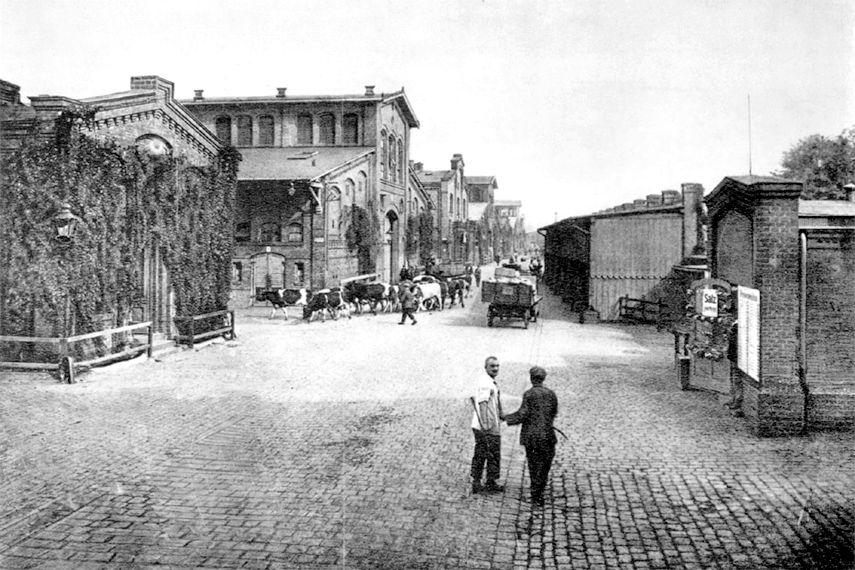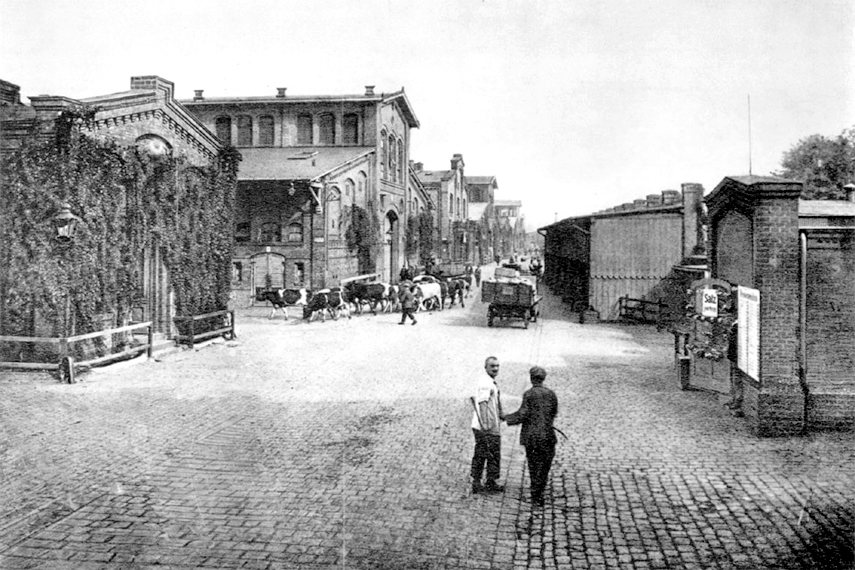 Due to the spatial distance of the Central Livestock and Slaughterhouse Area, which was constantly growing, and due to the distance to the urban life of the city, an independent supply had to be developed. A city within the city, so to speak. Thus, taprooms, pubs, lounges and business premises, public toilets, banks, blacksmiths, knife sharpening shops, post offices as well as tobacco shops were subsequently integrated into or added to the buildings. The rhythm of everyday life was dictated by the cattle market and the slaughter and sales. Thus, the first shops opened as early as 2 a.m. when the cattle transports arrived at the station.
The logistics designed for mass slaughter ensure working hours of up to 100 hours per week. In 1925, 1563 master butchers and their assistants were working on the premises. The food is usually eaten next to the slaughterhouse.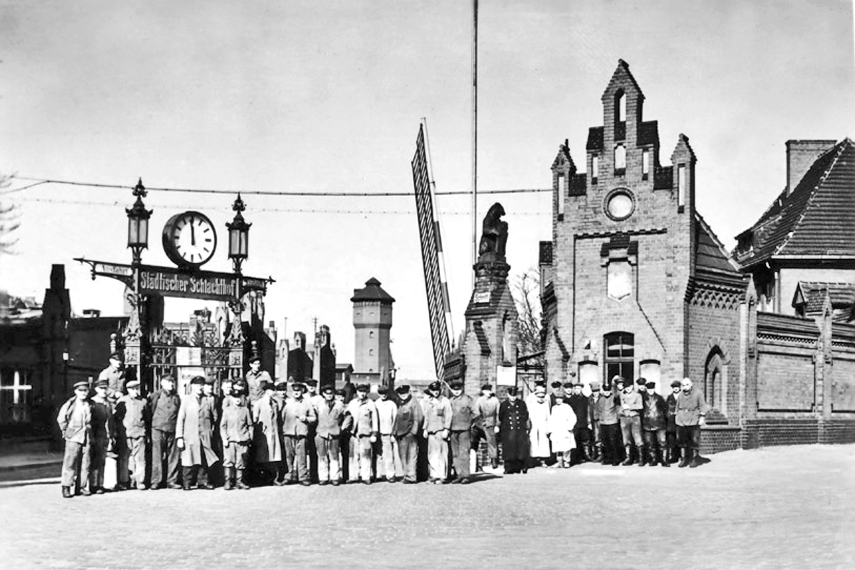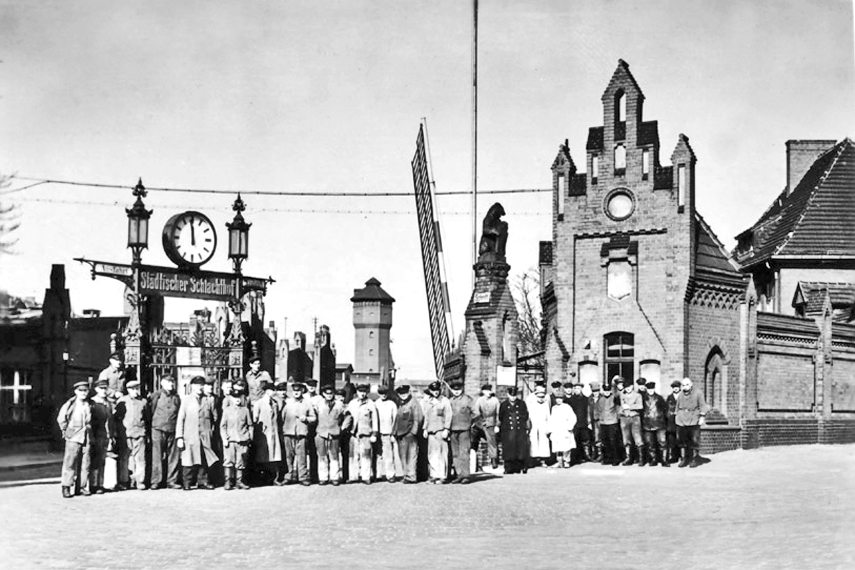 In 1887, animal welfare organisations enforce that cattle and pigs must be stunned before slaughter. In 1890, the regulation is extended to all animals. From 1902, electric stunning apparatus increasingly replaces stunning by hammer blow. The feed for the slaughter animals is supplied at the moderate rates of the municipal livestock yard.
"Each slaughter chamber has water crane and drain. Supplied free gas, free pig scalding water, free stall space in the barns opposite the slaughter chambers and use of the cellars."

Otto Hausburg, Administrative Director of the Central Livestock and Slaughterhouse
Part 6 of the 6-part series on the history of the DSTRCT.Berlin is dedicated to the topic "History becomes future." and we will publish it here on our website in a few days. So stay curious.
Missed a part? No problem. Read here:
Part 1: The beginning. An innovative concept.
Part 2: Short distances. Intelligently networked.
Part 3: Focus: Human and animal health.